TESOL CAMP 2021 – THE CONNECTION OF ACADEMIA AND BEST PRACTICE
---
On Friday, November 12, 2021, the virtual international conference TESOL Camp 2021 – BEYOND THE LIMIT co-organized by the HCM City Association of Teaching English to Speakers of Other Languages, Horizon TESOL and Tan Tao University took place successfully with active participation of many leading experts in the field of English research and teaching from all over Vietnam and the world such as the US, Australia, and Taiwan.
With the theme Beyond The Limit, TESOL Camp 2021 is held online in the format of an open conference with rooms and parallel discussion sessions. This is a novel and different feature that allows TESOL Camp 2021 to both create an academic forum for experts to share their scientific work and facilitate young researchers, teachers, students, researchers, managers and recruiters in the field of English teaching to exchange, share and learn from others' practical experiences. As a result, the event received a lot of positive attention from the community with 13 presentations, reports and sharing from experts and more than 300 attendees from over 30 educational institutions including universities, colleges, high schools, secondary schools and English centers.
Speaking at the opening ceremony of the event, Dr. Do Huu Nguyen Loc – Chairman of HCM City Association of Teaching English to Speakers of Other Languages Association (TESOL HCMC) said: " TESOL HCMC is established and operates with the mission of building a dynamic and highly connected academic and professional community. The series of TESOL Camp events co-organized every 2 years with Tan Tao University and Horizon TESOL is the most obvious proof of those values. The 3rd TESOL Camp takes place in the context that the COVID-19 epidemic is still very complicated, affecting the whole society including the education sector, we are forced to change to adapt, get acquainted and study new effective teaching and learning methods. That is also the reason for the topic Beyond The Limit of TESOL Camp 2021." Meanwhile, Prof. Thach Nguyen, Vice President of Tan Tao University, who attended the event from the US, also thanked the community of English teachers in general and the speakers, reporters as well as all attendees at TESOL Camp 2021 who have contributed to improving the English proficiency of Vietnamese people. At the same time, professor Thach Nguyen also shared some personal experiences about organizing specialized seminars, publishing scientific researches, etc.
Also at the opening ceremony of TESOL Camp 2021, HCMC Association of TESOL admitted nearly 200 new members. This is a great joy and great motivation of the Association in developing a dynamic, professional and growing TESOL community. On behalf of the members admitted on this occasion, Mr. Vinh Nguyen Gillespie from the US, said: "After graduating from Tesol Diploma course at Horizon TESOL, I was introduced to HCMC TESOL Association and was joined as a member. Joining as an HCMC TESOL Association's member, at first, I only expected to participate and connect within the network. However, It's more than that. Not just job offer, but participate in workshop skill improvement program, and especially advisor assistance from HCMC TESOL. It's impressed me and taking this class at this place is one of the most brilliant decisions that I had. Godspeed and wish the best for HCMC Tesol Association."
THE PLENARY SESSION 
Prof. Dr. John Baker (Duc Thang University) started the plenary session, emphasizing the importance of "Extensive Reading" and reporting on the topic "Envisioning, Designing, Proposing, Creating, Staffing, Implementing, Assessing, and Sustaining your Extensive Reading Program". This topic can easily be made into a full-day symposium, but with a calm demeanor and extensive knowledge, Prof. Baker presented an impressive amount of information in a fairly short amount of time.
THE PRESENTATION AND PARALLEL DISCUSSION SESSION
After the plenary session, participants will have the variety of options to join different rooms with interesting and practical topics. Attendees can choose to participate in different rooms with 12 "real-time" streaming sessions, presented by talented and experienced speakers and instructors.
Room 1 with the topic "Second Language Acquisition" coordinated by Mr. Pham Minh Huy (Horizon TESOL – TESOL HCMC) includes 3 reports:
Mr. Bui Duc Tien (University of Education – TESOL HCMC) with the topic "Early Childhood Education: Easing the Way for All Successive English Learning (and Definitely Teaching)". He shared about the fundamental issues of English teaching methods for children of different ages. The speaker's presentation helped participants gain perspectives on the factors affecting the development of children's abilities in language acquisition.
Ms. Mi Le (TTU) with the topic The Effect of Function-Focused Instruction on EFL Learners' Grammar Performance brought to the participants a very lively discussion highlighting effective Grammar teaching methods and their application.
Ms. Doan Thanh Nguyen with the topic An Investigation into the Use of Role-play Activities in Improving High School Students' Communicative Competence. This study introduces the method of teaching English by interactive activities, role-playing to enhance communication ability for students at the high school level.
Room 2 with the topic Industry 4.0 Paradigms Applied to Education coordinated by Mr. Nguyen Thanh Nhon (Tan Tao University) consists of 3 presentations:
Mr.Jonathan Lankford (TTU) – The BLESS Program from A.C.E. School of Tomorrow delivered a very unique presentation encouraging the use of technology to develop the self-study ability of foreign language learners, thereby helping to develop their potential.
Mr. Ton Ngo (Horizon TESOL – TESOL HCMC)- Enhancing Classroom Interaction with Technology offers a workshop on how to effectively use technology and the internet to boost interactivity in the context of online teaching.
Robert Goldberge (TTU) – Overcoming the Robotic English Speaking Syndrome: The 4 KEYS brings to the seminar a topic that has always attracted a lot of attention in teaching English, which is how to overcome dull and boring speaking English and shared very valuable ideas to make language teaching and learning more exciting and lively.
Rooms 3 and 4 coordinated by Mr. Nghi Tran (Ho Chi Minh City University of Food Technology) and Mr. Tran Thanh Vu (Sai Gon University) share the same theme of Learning Behaviors and Classroom Management with 6 presentations:
Assoc. Prof. Dr. Dong Hai – Nguyen: Fostering the Teaching of Math and Science Subjects in English to Vietnamese Students presented about the application of English in teaching Mathematics and Science to students in Vietnam. This is a wholehearted project of Mr. Dong Hai during the time of studying and working in the US.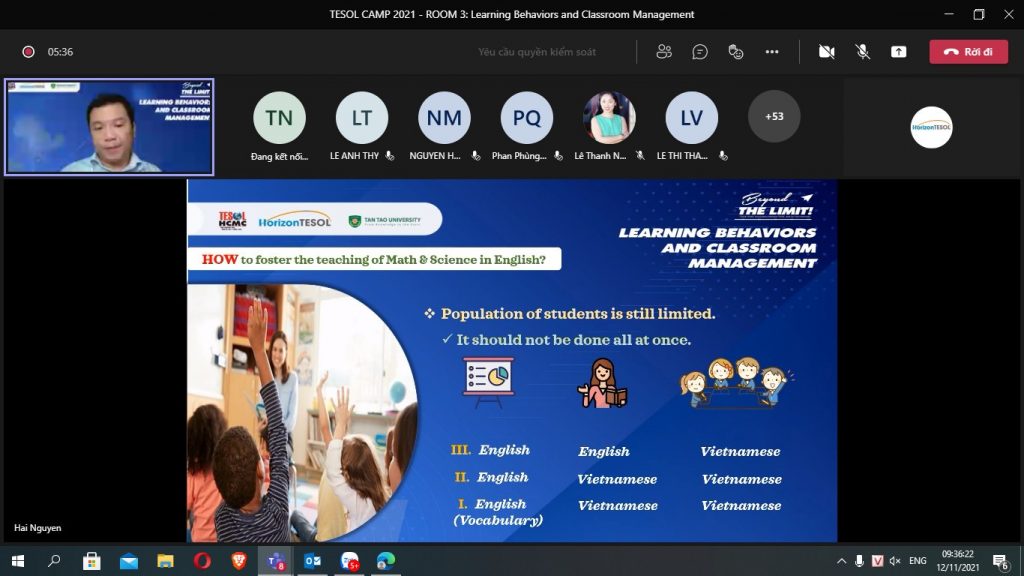 Mr. Peter Huynh (TTU) – The 4Ls came to the seminar with an intriguingly brief title of the report, but he made the participants appeal to the meaning and content of the talk when it revolved around an inspirational topic which is inspiring and motivating students by listening more to share more.
Mr. Pierre Camps (Horizon TESOL- TESOL HCMC) – Classroom Management – Young Learners contributed to making the atmosphere of the workshop more audience-engaging with innovative methods of classroom management and interaction with children.
Mr. Huy Hoang Huynh (Monash)- Incorporating Silence into Cooperative Classroom Activities at the Tertiary Level in Vietnam, despite studying and working in Australia, Mr.Hoang still took time to attend the seminar to share a very unique and extraordinary topic about understanding and taking advantage of the "silence" in the classroom to support better teaching and learning.
Ms. Ngan Le (Horizon TESOL – HCMC TESOL)- Challenges for online instruction and solutions brings participants with very practical experiences on how to solve problems and challenges in teaching English in the digital age.
Mr. Tuong Huynh (TDTU)- Motivating Learners to Engage in EFL Classroom shares his own experiences in encouraging interactivity and motivational learning for students in English classes with lively presentation via online tools.
POSITIVE FEEDBACK FROM THE ATTENDEES 
Last but not least, there were contributions and feedback from the participants. These are extremely valuable features for the Organizing Committee in reviewing the organization stages as well as better understanding the aspirations from the community to continue to bring more meaningful events in the future.
Mr. Jorge Marc Daniel Naville -a university lecturer appreciates the diversity of content and portraits of reporters, contributing to the motivation for a better developed English teaching and research community.
Ms. Pham Thi Ngoc Bich: "I really like Mr. Roger's presentation on expressive lesson. I think putting emotion in your voice is a very simple yet effective way of over coming the distance difficulty in the context of online teaching. The presentation also provided steps to have a nice and expressive speaking. I learned many other interesting knowledge in others presentation."
Ms. Ly Thi Phi Nhung: "The best feature of TESOL Camp 2021 is attendee can listen to the sharing of experts from TESOL field, discuss and make questions. The presenters/ experts kindly answer these questions and also give attendees useful recommendation. I will try to apply these useful knowledge and valuable lessons to my study and my work in the future. The host in each room is also friendly and welcoming participants' opinion."
Ms. Nguyen Thi Hong Nhung: "I love all features of the Tesol Camp 2021. I appreciate the inspirational and informative sharing from presenters, the enthusiastic atmosphere we made together in every session and especially, the hard work of the organizers. Thank you so much ❤️."